Lubeca's products
The benchmark for delight from the heart of the Hanseatic League
Lubeca has been producing semi-finished products for bakers, confectioners, confectioners and chocolatiers since 1904. Our unique products are infused with the knowledge we have been acquiring for over 100 years and our passion for our craft – Lübeck marzipan, the most delicate nougat and high-quality chocolate couvertures. The balanced combination of high-quality raw materials and traditional skills makes each Lubeca product an unparalleled delight.
We make our marzipan using freshly peeled, aromatic almonds and roll them through two counter-rotating granite rollers until they have the right "bite" and the desired structure. The marzipan is then roasted in our open copper roasting kettles using a traditional roasting process until it acquires its unmistakable flavour.
The designation "Lübecker Marzipan" is a protected geographical indication (PGI) registered in the EU register and is subject to special quality and production requirements. Accordingly, the specification "Lübecker Marzipan " may only be used if the following parameters are met: The marzipan is produced within the city limits of the Hanseatic City of Lübeck or in the neighbouring towns of Stockelsdorf and Bad Schwartau, where marzipan is traditionally produced. The product meets the demanding requirements for Lübeck marzipan with regard to the minimum almond content and the maximum sugar content as well as in terms of the ingredients and the manufacturing process.
Professional users all over the world use our semi-finished products when realising their creations because they have known for over 100 years: We are their benchmark for delight.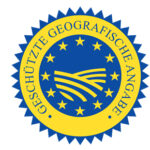 Everything revolves around flavour
The roasting kettle process
Lübecker Marzipan-Fabrik is one of the few marzipan manufacturers who use this method to achieve the uniqueness of Lübeck marzipan: the roasting kettle process.
During this process, the "Maillard reaction" takes place in combination with the copper 's catalytic effect. This gives our marzipan its typical roasted aroma with the traditional, unmistakable Lubeca flavour.