Welcome to the leading manufacturer of marzipan pastes, nougat pastes, chocolate couvertures as well as almond and hazelnut preparations as semi-finished products for further processing.
We provide these goods to confectioners and bakers, chocolatiers, pâtissiers and companies in the confectionery and bakery industry in over 60 countries around the world. Our profits are put towards the common good in the Lübeck area through our sole shareholder: the non-profit Friedrich Bluhme and Else Jebsen Foundation.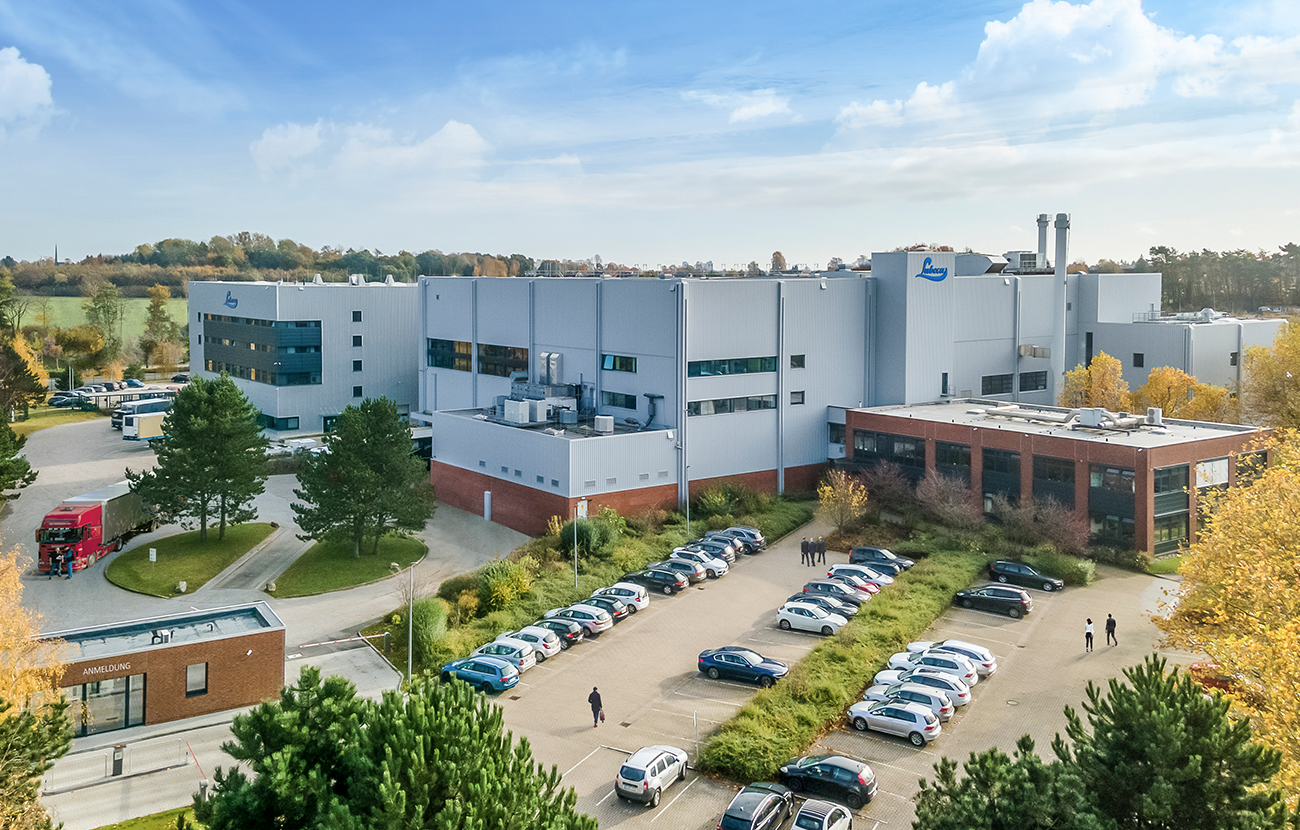 High-quality marzipan
a strong tradition at Lubeca
Operating under the brand name Lubeca, Lübecker Marzipan-Fabrik v. Minden & Bruhns GmbH & Co. KG is a traditional medium-sized company. It currently has a headcount of 230 and exports to over 60 countries. The high quality of our products has been appreciated by customers at home and abroad ever since the company was founded in 1904.
As the company's main product group, our marzipan products boast special quality based on the traditional method we use in their production. Lubeca chocolate couvertures and nougat are characterised by excellent flavour and a delicate melt-in-the-mouth texture. Even the most demanding artisan customers recognise the quality of Lubeca's almond preparations and hazelnut preparations, made from the best raw materials.
Responsibility
for the region
Lübecker Marzipan-Fabrik is 100% owned by the Friedrich Bluhme and Else Jebsen Foundation. Company owner Friedrich Bluhme Jebsen established the foundation shortly before his death in 1960 to ensure the successful continuation of his life's work without outside influence.
The purpose of the foundation is to promote charitable, non-profit, ecclesiastical and cultural causes in the Lübeck region through the company proceeds.
The beginning

Founding by Felix Bruhns, Wilhelm Beth and Henning von Minden

Blanching in the steam boiler

Almonds skins are removed by heating in hot steam kettles

A piece of history

A beautiful bill from 1908 – bearing the city goddess Lubeca on the letterhead

Raw materials warehouse

Early quality management: The raw almonds are received and checked in our raw goods warehouse.

Friedrich Bluhme Jebsen

Friedrich Bluhme Jebsen joins the company. He becomes the sole owner in 1917.

Finished goods warehouse

Lubeca already exports to many countries around the globe and maintains a large stock.

Hand-picking

Our quality standard for over 100 years: Hand-picked almonds

Granite rolling

Fine rolling using granite rolling mills. The tradition is upheld to this day.

Enamel advertising sign

"Take Lubeca marzipan only ", that was true in the past and still is to this day.

A Lubeca picture book

"Strömt herbei, ihr Kinderscharen" `{`Gather round, my children`}` – a children`s book about marzipan by well-known Lübeck artist and comedian director Ernst Albert dating from 1925.

Office

Staff in the office. Personal consultation and order taking

Roasting kettle

This is what makes Lubeca marzipan so incomparable: Roasting in open copper kettles.

The 1930 Bakery Trade Fair in Kiel

The Lubeca stand at the 1930 Bakery Trade Fair in Kiel. The trade fair novelty: Ring-free marzipan.

Warehouse

Team spirit prevails at Lubeca in 1935 – between man and beast too.

A truck

Lubeca is successful and growing. Deliveries are made by the company's own lorries.

Order books of the 40s

Stylish witnesses of a successful era without computers.

Lubeca on the road to success

Lubeca has numerous representatives in Germany and delivers almost worldwide.

The 60s

View of Lubeca Marzipanfabrik around 1960

The 70s

View of Lubeca Marzipanfabrik around 1970. Each decade has its definition of modernity.

More space for good products

Lubeca expands and lays the foundation stone for the new building in Stockelsdorf.

Modern production at the Stockelsdorf site

Lubeca flourishes at its new headquarters in Stockelsdorf.

Lubeca marks its centenary

Lubeca celebrates a dignified anniversary on 30/04/2004, attended by 250 guests from
Germany and abroad.

The fully automated high-bay warehouse

Commissioning of the temperature-controlled high-bay warehouse operated with automatic loading and unloading equipment.

Lubeca today

The modern Lubeca marzipan factory